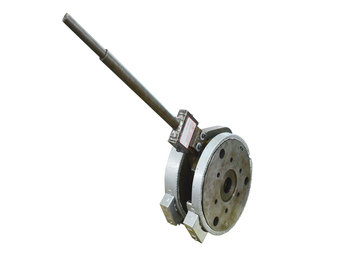 Lever Operated Screen Changer
Matruchaya Industries manufactures & supplies, high quality Lever type Screen changers with latest production technology. All products made & tested with precise supervision under one roof. Alloy steel & other special  material are used for leak proof & sound design, which gives maximum output  & leads to 100% utilization  of our products.
Lever operated manual type Screen changers are used in Plastic Processing Extruder Plants, like Pipe Plant, Film Plant, Sheet Plant etc.
These Screen Changers are known as Lever Screen Changer and Manual Screen Changer in the Plastic Processing Plant Industries.




MCILR40
40 MM SCREEN DIA., 12 CM SQ FILTER AREA, 3.0 KW HEATING REQUIRED, 30 TO 100 KG/HR SUITABLE OUTPUT
MCILR50
50 MM SCREEN DIA., 20 CM SQ FILTER AREA, 4.0 KW HEATING REQUIRED, 40 TO 130 KG/HR SUITABLE OUTPUT
MCILR60
60 MM SCREEN DIA. 28 CM SQ FILTER AREA 5.0 KW HEATING REQUIRED 50 TO 160 KG/HR SUITABLE OUTPUT
MCILR80
80 MM SCREEN DIA., 50 CM SQ FILTER AREA, 6.0 KW HEATING REQUIRED, 60 TO 200 KG/HR SUITABLE OUTPUT
MCILR100
100 MM SCREEN DIA. 78 CM SQ FILTER AREA 7.0 KW HEATING REQUIRED 80 TO 300 KG/HR SUITABLE OUTPUT
Compact & Light weight design,
Suitable to 300 deg. Celsius Temperature,
Suitable to 300 KG/CM SQ. Pressure,
Lowest heating time, Simple & fast operation
Double Station Screen changer