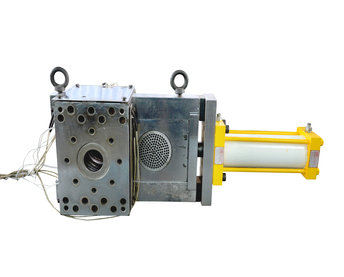 PLATE TYPE HYDRAULIC OPERATED SCREEN CHANGERS
Matruchaya Industries manufactures & supplies, high quality Plate type Screen changers, Hydraulic cylinders  & Power pack system with latest production technology. All products made & tested with precise supervision under one roof. Alloy steel & other special  material are used for leak proof & sound design, which gives maximum output  & leads to 100% utilization  of our products.
Hydraulic Plate type Screen changers are used in Plastic Processing Extruder Plants, like Master batch plant, Filler plant, Reprocess dana (granuals) plant, Lamination plant etc.
These Screen Changers are known as Hydraulic Screen Changer, Plate Screen Changer & Platen Screen Changer in the Plastic Processing Plant Industries.



MCIHPL120
SCREEN DIA. (MM) : 125 FILTER AREA (CM SQ) : 122 HEATING REQUIRED (KW) : 6.5 SUITABLE OUTPUT (KG/HR) : 40 TO 150 HYDRAULIC POWERPACK SYSTEM : 3-HP, 4.3 LPM
MCIHPL150
SCREEN DIA. (MM) : 155 FILTER AREA (CM SQ) : 188 HEATING REQUIRED (KW) : 9.0 SUITABLE OUTPUT (KG/HR) : 60 TO 250 HYDRAULIC POWERPACK SYSTEM : 3-HP, 4.3 LPM
MCIHPL180
SCREEN DIA. (MM) : 185 FILTER AREA (CM SQ) : 268 HEATING REQUIRED (KW) : 12.0 SUITABLE OUTPUT (KG/HR) : 100 TO 300 HYDRAULIC POWERPACK SYSTEM : 5-HP, 6.1 LPM
MCIHPL200
SCREEN DIA. (MM) : 205 FILTER AREA (CM SQ) : 402 HEATING REQUIRED (KW) : 14.0 SUITABLE OUTPUT (KG/HR) : 150 TO 350 HYDRAULIC POWERPACK SYSTEM : 5-HP, 6.1 LPM
MCIHPL225
SCREEN DIA. (MM) : 230 FILTER AREA (CM SQ) : 415 HEATING REQUIRED (KW) : 16.0 SUITABLE OUTPUT (KG/HR) : 150 TO 350 HYDRAULIC POWERPACK SYSTEM : 5-HP, 6.1 LPM
MCIHPL250
SCREEN DIA. (MM) : 255 FILTER AREA (CM SQ) : 510 HEATING REQUIRED (KW) : 18.0 SUITABLE OUTPUT (KG/HR) : 150 TO 350 HYDRAULIC POWERPACK SYSTEM : 5-HP, 6.1 LPM
Compact & Light weight design
Suitable to 300 deg. Celcius Temperature
Suitable to 300 KG/CM SQ. Pressure
Lowest heating time, Simple & fast operation
Double Station Screen changer